We had a LOT of food... and walked all over the damn place.
My friends from WoW (the Reasons) stayed in Embassy Suites all the way out of the mf'in way north of Battery Park City and the stupid escalator/elevator for one of the bridges over the west side highway was broken so there was a lot of carrying stroller up the first day till they clued in on going up to Chambers St and walking across.
Thursday
went to get xiao long bao their first day here at Joe's Shanghai. Friend really liked them and she said the crab ones were better than the ones in Shanghai, mostly because they don't use much crab there, but that the pork ones were half aszed because you could taste they used chicken broth in the soup base instead of all porky goodness.
Then we had bubble tea at Quickly and I took them to Ferrara for some cannoli, gelato and other treats.
Friday
They came over and Marshall, the baby, came through like a hurricane.
Mallow hissed at him like three times and Mallow's only hissed twice in his whole life before then so you can tell how he feels about hyper babies.
We sat and they watched the Ghana/Netherlands WC game.
I was trying to bake a cake (nutella n chocolate bundt cake) for the longest but keeping a not-quite-two-year-old out of the kitchen and occupied is daunting.
I got it into the oven right before they left and then I had to wait for my stupid left handed mouse to be delivered.
They had to go out with their fam and they chose this very touristy spot called the View. For 15 people or so (including the kids) it came out to about 1200 bucks and a bunch of mediocre food.
BF and I went out to PJ Clarke's for burgers since it was close by and then they came over for the cake. We got some "fancy" beer for the guys (Piraat and Chimay )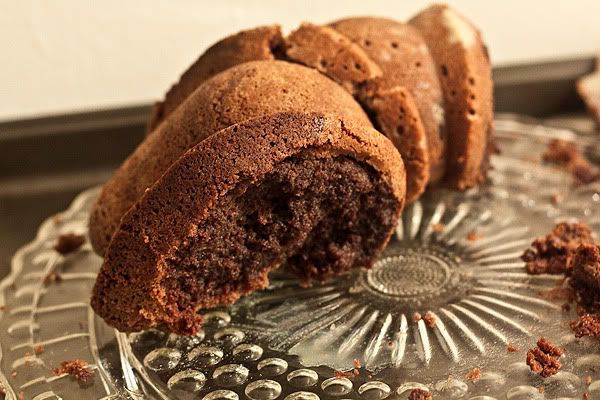 Then we watched the second Family Guy Star Wars on hulu and I bought the first one to watch from iTunes.
Saturday
we got up relatively early and went to Jade Asian for dim sum:
Marshall cuteness intermission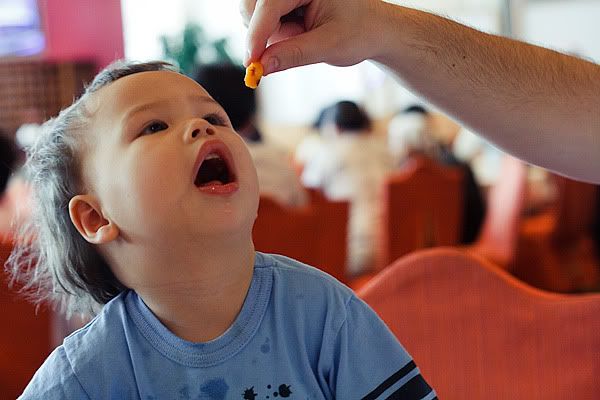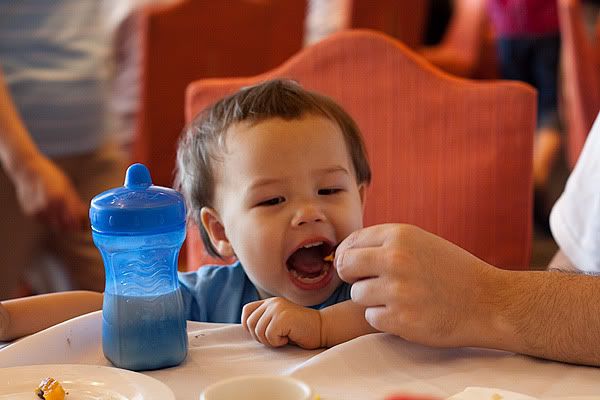 this is pumpkin with bean paste
egg tarts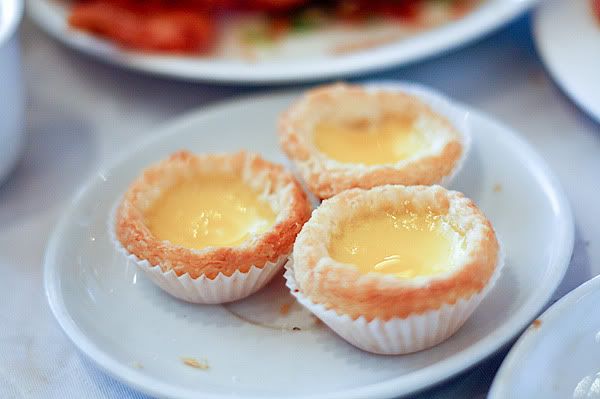 roast pork buns
scallops with a slightly sweet and buttery topping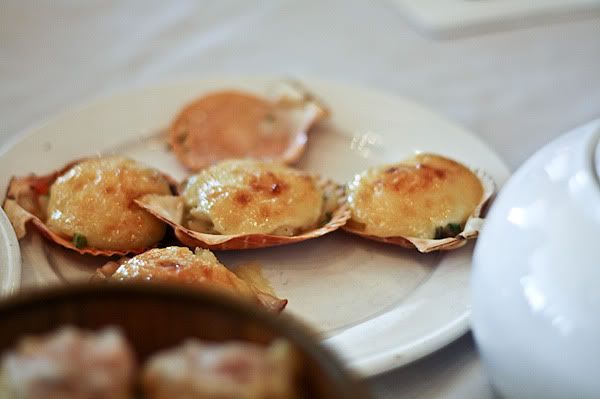 shumai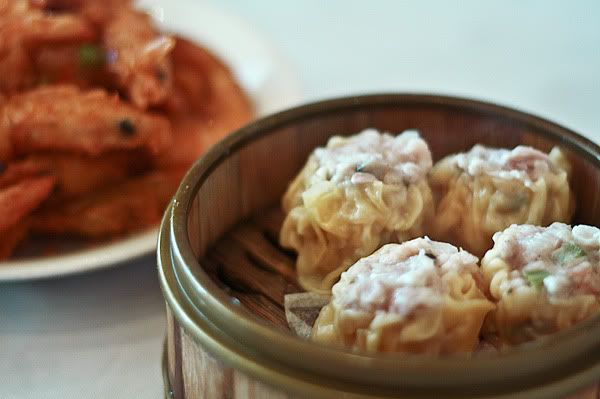 salt and pepper shrimp. (so good and fresh, even with the skin on.)
watermelon tapioca dessert thingie. This was AWESOME. You know how I am about all things wallamelon. Plus it was extra sweet and red and the tapioca pearls were tiny.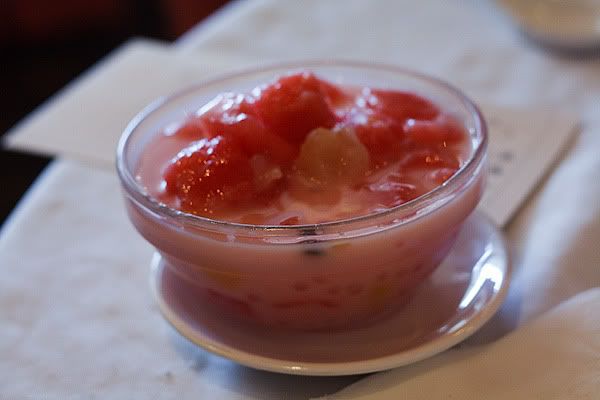 fried taro filled with pork
chinese cruller in flat rice noodles served with vinegar and soy on top n hoisin sauce on the side (peking duck sauce).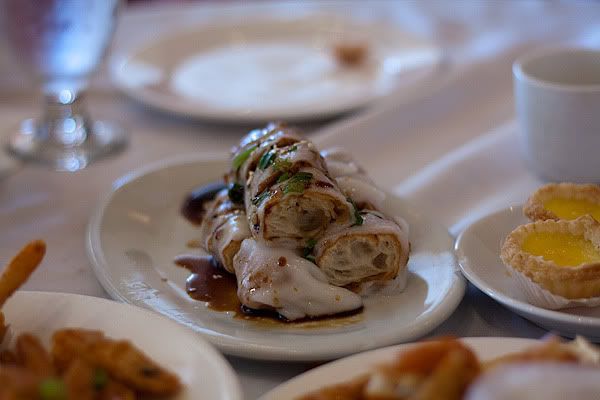 We also had short ribs, shrimp shumai and my friend got congee with 100 year old egg in it, but iono where I put those pics.
random shots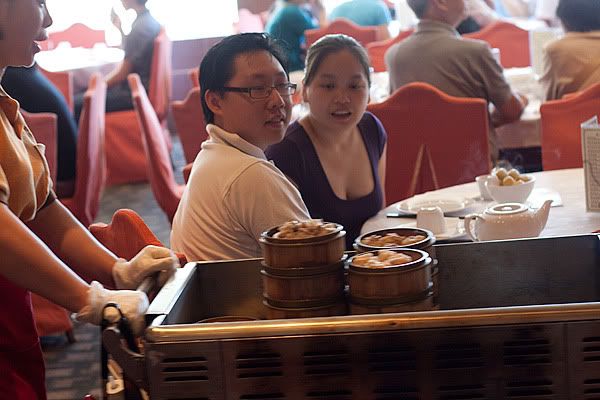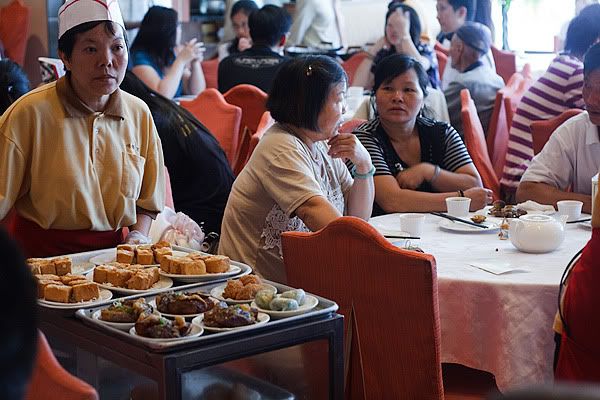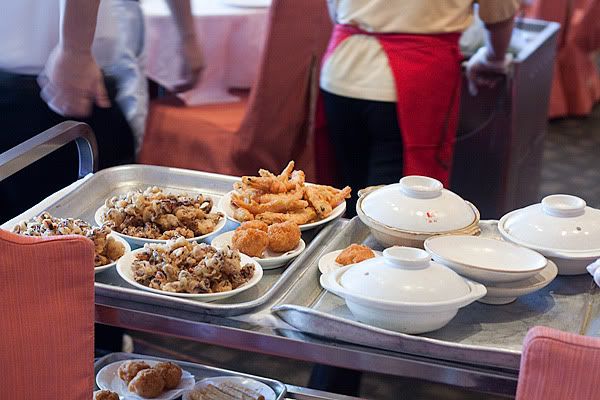 We had bubble tea at Sago afterward, then sampled one meat on a stick from meat on a stick guy. She also picked up some lychee for a snack later.
Went back to their hotel and waited for some of their fam to get back and babysit all the kids (there were about 6-7 total between all the family members)
After that we went to Ippudo and they told us a 3 hour wait.. so I put my name down and then we went to saint's alp tea house and her husband's brother had bubble tea for the first time.
They've just finished renovating, but it still looks the same inside.
BF had a gingerbread bubble tea. I got this lychee slushie thing and it was yum.
Then we went to Pommes Frites .... got the sweet mango chutney and roasted garlic frite sauces. After that we stopped by Klimat for some polish beer then got the call that the table before us was paying.
Here's what we had at Ippudo
The guys shared this thing of cloudy sake (I had a black plum wine that had a yummy brown sugar aftertaste)
This is salmon tatsu-age .. so it's deep fried and served with grilled pepper, this thingie I have no idea, lemon and the mayo that I didn't touch. The salmon was PERFECTLY salted and mmm.
BF and I shared an Akamaru Modern ramen which had more flavor. I asked for two eggs (for me, he says they're gross when they're only partly cooked) and a side of pork belly which you can see below. We ended up getting another plate of noodles cause he's a bottomless starch pit.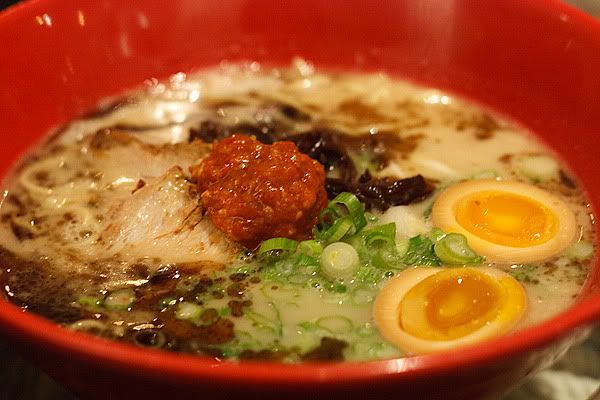 Then since her husband had talked about doner kebab so much I yelp'd this place called Yatagan and we walked there even though we were stuffed. He and I ordered one but I ate mine for breakfast the next day. The meat on the spit was very moist and succulent, but I was damn tired so I didn't take any pictures.
I even nabbed a skrawberry Jarritos from the Mexican food cart near the Christopher st 1 stop... the stairs have gotten even worse there, if you can imagine. They're supposed to be "fixing" them.
Sunday
We met them at Columbus Circle this morning and had a bit of
Grom
gelato (I got the stracciatella and the crema come una volta) before walking towards FAO Schwartz for kiddie goodness.
Stopped into Pop Burger for a quick bite. Loved the fries, burgers are so so. I've had their onion rings before and the fries are much better. Burger was the same both times.
So after going through the whole store leading Marshall along by dangling a new toy in front of him we came to the youngest child section and I found something I wanted.
It's cute and it's called ittybit from the Bunnies by the Bay collection
I can make it dance to music with my fingers and chuck it at his head if he says something silly.
This afternoon it was like 94 degrees. We went to this cute little japanese sweets shop in Rock Center called Minamoto Kitchoan.
http://www.kitchoan.com/E/index_b_natsu2004_e.html
I had a white peach sorbet right in the store because it was so hot outside. I was gonna take them to La Maison du Chocolat, but it's closed on Sundays.
We had pizza from Artichoke Basille for lunch. They're opening a larger place in Chelsea that will stay open till 5am with an expanded menu and bar. ^_^