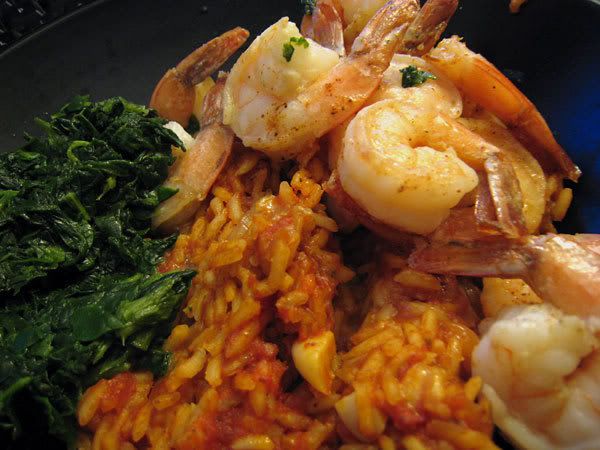 So I had a craving for Spanish rice (and ended up forgetting the banana peppers so BOO).
pancetta or bacon
1 large onion
1 1/4 cup rice (I used organic texmati)
1 can diced tomatoes
1 small can tomato paste
~2 1/2 cups of chicken broth/stock
chili powder
cumin
salt & pepper to taste
I decided to use up the pancetta I had left in the fridge so I cut that into little chunks and rendered the fat from them. I removed the pancetta from the pan and set it aside.
I added some olive oil to coat the bottom of the pan and sauteed a sweet onion till it was translucent.
To the hot oil and onion I added the dry rice and mixed that around till it started to turn a light golden brown.
I added the chili and cumin to the pot.
I put the chicken stock in and the diced tomatoes then added the tomato paste.
Then I added a bit of salt and a generous amount of pepper.
I covered the pot and set the eye on low. When the rice was almost done I added more stock as it had all absorbed.
For the shrimp I simply melted some butter in a pan and added a lot of jerk seasoning and some salt.
The spinach was frozen and buttered. :P