So I finally used a gift certificate I got for my birthday in 07 and chose
Regional French Cooking: Normandy.
The normal teacher was out or something so we had another chef come in, Chef Jane Brock. She was funny... called him chef McDreamy.
The class was 5 hours long from 6pm to 11pm.
Anyway, the first part of the class had us go over all the recipes we were going to make and she gave us extra little notes about different steps or how to halve the recipe.
Here's what was on the menu:
Buckwheat Crepes
Cauliflower Soup with Mussels
Sole Normande
Pork with Calvados
Artichokes Barigoule
Tart Tatin
We learned the proper way to dice and slice onions (The french slice with the grain because it makes them more tender and uniformly curved).
We learned how to fillet a whole flat fish. o.o
We learned how to "turn" an artichoke the French way to get rid of all the outer leaves and that you should scoop out the choke with a melon baller.
We learned how to debeard mussels and how to test if they're alive by either tapping or squeezing (her favorite)
We learned that if your pan is too high you can turn on the back burner when trying to flambe so the alcohol ignites.
We learned that you should never mistake white wine vinegar for white wine like another group did.
We learned that the original chef's recipe for tart tatin was hard to follow, burned and had to be redone the right way at the last minute.
Anyway we split into 3 groups of 4. Our group was responsible for 2 portions of the pork, 2 portions of the soup and one portion of crepes.
I prepped the dry ingredients for the crepes then worked on the pork for the rest of the night. After the pork was in the oven i made crepes (mine came out the thinnest)
Another team worked on crepes and theirs were really thick so we made them savory with Camembert and diced ham.
The others we put lemon and powdered sugar on top, but buckwheat is really more of a savory type of crepe. It just made me want to get a normal crepe and eat it, tbh. I don't know if I'm a fan of buckwheat, wukin pa nub or not.
Anyway, enough talking... here's the food:
The soup (the other two people in our group worked on this. It was a teensy bit gritty, but the mussels were perfect.)
My plate:
Tart tatin (little browner than it should have been, but very yummy especially the crust):
Misc pictures of the "buffet"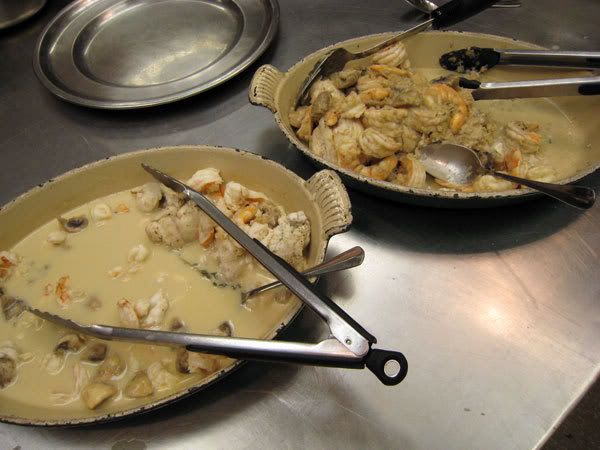 I went a little overboard with the powdered sugar >_>