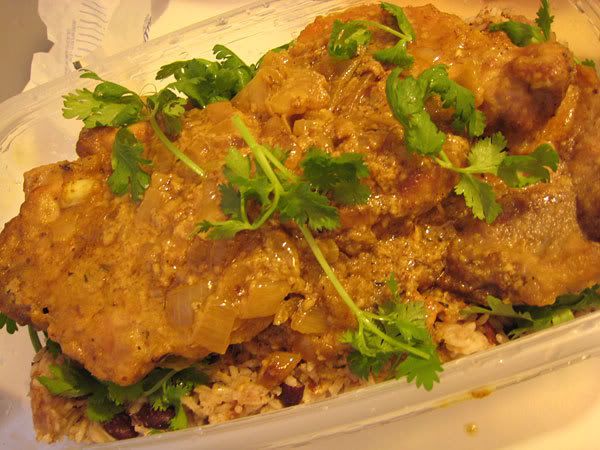 So I went to visit my parents on Sunday and took down the wallpaper in the bathroom for them. I decided to bring over some food too so I cooked 4 pork chops then made a sauce with onions, brandy, spicy brown mustard, a few dashes of sweet curry powder, chicken stock and thyme (with a pat of butter just cause). I garnished it with a ton of cilantro and had limes on the side to squeeze over.
This was placed over kidney beans (canned) that I'd boiled in a can of coconut milk with one pig tail, some hot pepper and a few other things. I added rice after the pig tail was cooked through.
I "plated" it in the tupperware I was taking over to the 'rental units.
I also brought along some "not yo' mama's banana pudding" by Paula Deen. This time I used these butter cookies in a tin from Rite Aid since they were
there
and
on sale
.
Those are two words I really use a lot to justify my purchases.
Of course since the bottom said they were "made in China" (which I love things made from but freaked out about possible melamine contamination) I called a Rite Aid rep at almost midnight to ask if it was ok to use them.
It's ok. I already know I'm crazy.