So the plumber came and fixed our sinks and now I can cook again. Joy.
I'd gone to Bangkok Center Grocery on Mosco St in Chinatown to pick up some Thai basil for this and ingredients for pad thai (which I haven't made in a few years).
Since I'd had them for a few days the basil leaves were starting to wilt and go dark.
I had a clay pot from the awesomest takeout idea ever at A-Wah. When you order a clay pot dish from them to go they give you the clay pot to take home in a handled paper bag.
So I wet the pot in the hopes that I hadn't left it too long and to prevent it from cracking during the cooking process.
I used a couple recipes online to make something that I think tastes ok.
~1/4 c sesame oil
1/3 c rice wine
1/4 c soy sauce
black sweet soy sauce ( I used the Healthy Boy brand I got from the Thai grocer).
ginger
garlic
scallions
a pinch of palm sugar
a dash (or more) of aleppo pepper
chicken (I used a family pack of chicken thighs that I cut up into bite size pieces but left the bones with some meat on them and included them as well)
This is pretty much all I used except that I happened to have cooked bacon in the skillet earlier so I used some of that oil mixed with the sesame oil.
Ok, so take a skillet and heat the oil up. While you're prepping this, get your clay pot all nice and toasty on another eye so that the temperatures will be about even.
I didn't measure the sesame oil but I poured quite a bit into a skillet and sauteed the scallions, ginger and garlic till the garlic started to go golden.
Add the chicken in and brown a bit.
Add the rest of the ingredients and toss a few times then, using tongs, place the chicken into the clay pot.
Carefully pour the liquid from the skillet over top the chicken and cover.
It's ok if you have liquid left over. I reduced it a bit in the skillet then added it to the clay pot when the liquid level had decreased enough to warrant it.
Cook for about 20 mins or as long as it takes your rice/rice cooker to be ready. I cooked it longer as I wanted the liquid to reduce more.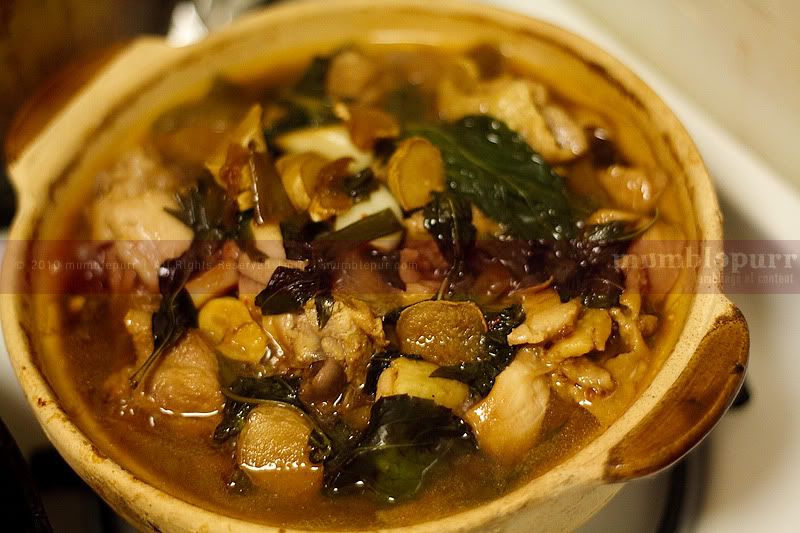 Serve with vinegar on the side for a bit of extra kick and to cut some of the oily goodness.