Boy did I try to recreate the gnudi at the Spotted Pig: three different batches of them, to be exact.
I'm going to keep trying, but they're just not coming out the same no matter how tasty they are.
The first time I used my homemade whole milk ricotta and that was good. By the way, here's a picture of the finished cheese: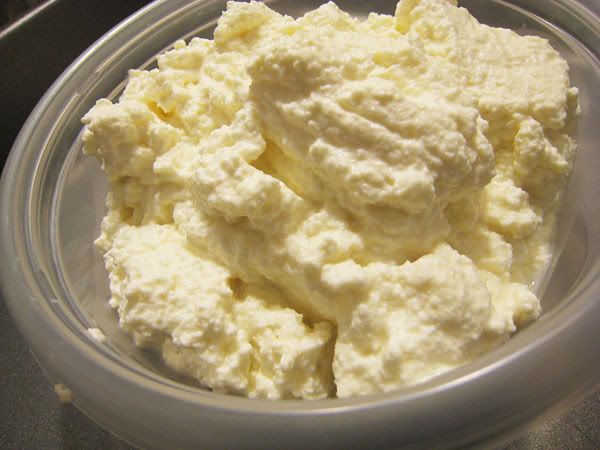 Anyway with that cheese I made the gnudi below and they kind of flattened out. I used
this recipe
from Gothamist's Eating In.
I figured I'd go to the Union Square greenmarket and pick up some sheep's milk ricotta if that made the difference. I tried
this way of making them
from Zen Can Cook (but without the pastry bag).
That time the semolina on the outside mostly came off the gnudi (I left them in a dish with semolina surrounding them overnight and the rest of one day.
I added ham and fried sage and browned them a bit. Both batches had lemon added. As you can see from this picture my iphone takes crappy pics in comparison to my old one, but whatever I'll deal!
So I tried a third batch with my ricotta and the sheep's milk mixed together in case it was the sheep one not being wet enough. I tested two out and poached them right away and they kept their shape until I took them out of the water. Then they plopped into flat cheesy blobs.
This morning I browned some for work and the blobby ones completely fell apart in the pan while the others (from the second batch) were ok. For some silly reason I decided I needed to add four to the pan to make a roux for a thicker sauce, but I added too much. I spooned half the gravy (for that's what it looked like) out and added the lemon juice. Then I just let it cook. It was surprisingly still tasty. There are no pictures of this embarrassment, however.
You have no idea how many little gnudi remain in my fridge. I'm going to have to "make" my roommate eat a bunch of them so I don't get sick!
In closing I feel so much like the king of Swamp Castle from Monty Python and the Holy Grail.
"When I first came here, this was all swamp. Everyone said I was daft to build a castle on a swamp, but I built in all the same, just to show them. It sank into the swamp. So I built a second one. That sank into the swamp. So I built a third. That burned down, fell over, then sank into the swamp. But the fourth one stayed up. And that's what you're going to get, Lad, the strongest castle in all of England. "
One day I will be queen of gnudi that taste like something from the Spotted Pig. Until then I shall keep trying!