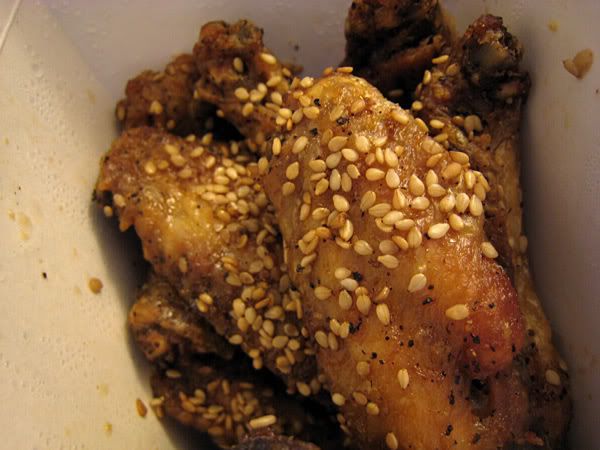 So after I scored a calphalon pan, some chi silk infusion and some drinking glasses from TJ Max I went to Bed, Bath and Beyond (both on 18th & 6th). After leaving with a Brita and some other things from BBB I walked over to 7th.
On the way there was this tiny little shop that had Japanese fried chicken wings.
I had to stop in.
I got an order to go with some of their potemochi (toooo mushy to even have a picture of, bleh).
When I got home I had high hopes for these wings. Look at them. They're little, beautiful, sesame-speckled temptresses. Then I bit into them.
The chicken itself was kind of meh. This isn't the meaty wing you'd get someplace else and the flesh was kind of stringy.
The skin was no longer crispy because of my journey and I longed for more of the sauce to compensate.
I'll try to give them another shot fresh, but I don't know if it's worth it or not.
Tebaya
144 W 19th St
(between 7th Ave & Avenue Of The Americas)
New York, NY 10011