Some days I go through the cupboards and pick out a can my roommate's aunt left to make something out of. Last week I pulled out chickpeas!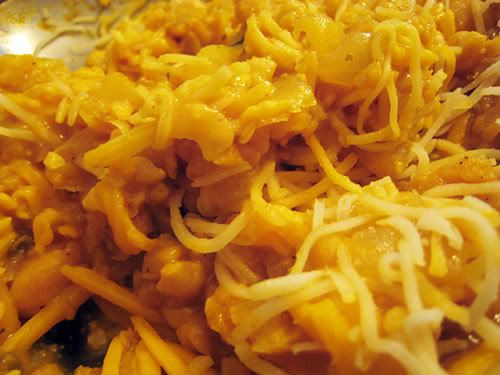 1 can of chickpeas
1 small onion
2 cloves garlic, smashed
butter
salt
pepper
sweet curry powder
tabasco sauce
ancho chili powder
paprika
honey
the juice of one lemon
diced scallions (optional)
shredded cheddar
Dice a small onion and put it in a saucepan with some olive oil. When they became translucent add a pat of butter, sweet curry powder, pepper, garlic and other spices. When the garlic is soft add the whole can of chickpeas including the liquid. Chop your scallions and add them in as well. Add tobasco to taste.
Cook until soft, mashing the chickpeas to a porridge consistency. Add 1/2-1 teaspoon of honey towards the end of cooking.
You can sprinkle the lemon juice on top while serving or add at the last 5 minutes of cooking.
Put the chickpea mixture into a bowl and sprinkle the top with shredded cheddar cheese. Alternately, you can add the cheese into the pot and let it cook a little while to melt it fully.